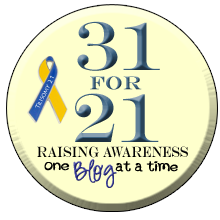 The month of October is Down Syndrome awareness month. This year marks the 6th annual 31 for 21 blog challenge. What's the challenge? Well, let me tell you.
Down syndrome is medically known as Trisomy 21. Trisomy 21 is for the 3 copies of the 21st chromosome that individuals with Down syndrome have.

There are 31 days in the month of October.

The blog challenge is to blog for 31 days for Trisomy 21. Blog every day in the month of Oct in honor of National Down Syndrome Awareness Month.
I have accepted this challenge in hopes of spreading the awareness, my thoughts and feelings, and Finn's story amongst my family, friends, lurkers, strangers, and web surfers alike.
Who am I doing this for? This little guy. Finn.