31 for 21 blog challenge day 24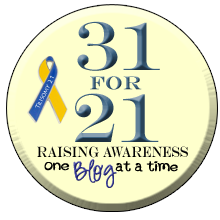 Well, I did it.

If it's strangers, I could care less. I feel no need to explain anything. If it's someone I know, they already most likely know and are comfortable to ask me questions. If it's someone whom I see regularly, but don't associate with on a regular basis; that's where I just don't know.

I had to take Finn with me to my nutrition class last night. It was the first time not being able to avoid people that didn't know my situation. I was in a position where avoiding the facts was inevitable. The first thing they said when I walked through the door was, "You have a baby! Let's see your baby."

"Oh he's cute." "Look at that hair." All were very sweet and nice. They talked to him throughout the night. And Finn was very polite and smiled back at them. One of them asked about his oxygen band aids, but that was it. It was easy. And it was nice.

But all the while in my head I'm wandering-They know, right? I don't need to tell them, do I? Should I?

Being in this situation is one of the harder things for me to have to deal with. Do I need to explain my kid to others? I don't explain my other kids. You'll never hear me say, "Gavin..... Ya, he looks the way he does because he has blue eyes and super long eyelashes."

It's difficult. But unless I break the barrier, I always wonder. They know, right? I don't need to tell them, do I? Should I? The other person will usually never say anything. But I don't like labeling my son. "Hi, this is Finn. And he has Down syndrome." Down Syndrome doesn't define who Finn is. And it shouldn't.

Well, I didn't say anything last night to the people I was with. And they didn't ask or question. Whether they knew or not, I don't know. But I am glad that I didn't say anything. I shouldn't have to. It was nice. I did wonder what they were thinking though.



BUT



I like to think that maybe they were looking past his disability and seeing Finn for who he was.

Or maybe they kept looking at him and talking to him to figure out just what it was that was wrong with him.

I've decided that I'm not going to explain Finn to people upon meeting him for the first time. If they want to know, they're going to have to ask. Finn is not Down syndrome. He is a little boy who has brown eyes that smile back at you when he smiles. He has dark brown hair that sticks straight up in mohawk form and won't go down. He is a very happy baby and always has a smile to offer. He is a little boy who will talk (coo) your ear off if you'll give him the time. He hardly ever cries and is patient. He has a calm demeanor. He has a spirit about him that is sweet and delicate. He is a precious boy, and my son.